Millaa Millaa is situated on the southern area of the Atherton Tablelands, about 60km west of Innisfail and 98 kms from Cairns.  Driving from Innisfail take the  Palmerston Highway or travelling from Malanda on the Malanda-Millaa Millaa Road, the township is 23.7 km away or 20 minutes drive.
This beautiful town is gateway to the southern Atherton Tablelands. Images of its multiple picturesque waterfalls have graced thousands of travel pages. At 850 metres above sea level, the town is nestled among emerald hills surrounded by lush dairy pastures, majestic rainforests and those magnificent cascades.
The 17-kilometre waterfall circuit and rainforest-clad Wooroonooran National Park are just two of the natural attractions that bring visitors to the mild climate of this town.
The circuit begins at Teresa Creek Road, just south of the township of Millaa Millaa encompassing Millaa Millaa Falls, Zillie Falls and Ellinjaa Falls. Together, these falls are the most photographed waterfalls in Australia.
Millaa Millaa Falls
Travelling south from Millaa Millaa on the Palmerston Highway, turn left onto Theresa Creek Road and about 1 km is the turnoff. There's good signposting to Millaa Millaa Falls.
Millaa Millaa Falls are a popular swimming spot…and good for spotting wildlife. Look for the Ulysses butterfly and platypus late in the afternoon.
Facilities include picnic tables, BBQs, shelters, public toilets and change rooms.
Zillie Falls
Zillie Falls are 7.5km from Millaa Millaa Falls. A viewing platform provides a photographic advantage and facilities include a BBQ and shelter shed in the carpark.
Elinjaa Falls
Ellinjaa Falls, 3 km on from Zillie Falls, flow over a series of lava columns.
The carpark has BBQ and picnic tables.
Walk down to the zig zag track to the stream – great tree ferns and vines on the descent.
Pepina Falls
Ten kilometres from Millaa Millaa along the  the old Palmerston Highway (now a scenic route) towards Ravenshoe are the Pepina Falls.
A short walk gets you to the base of these falls. Parking is very limited.
Mungalli Falls
Thirteen kilometres from Millaa Millaa along the Palmerston Highway, towards Innisfail is Junction Road and then follow the signs to Mungalli Falls. At 90 metres they are the highest on the Atherton Tablelands.
Misty Mountains
Millaa Millaa is the gateway to the wilderness walking tracks Misty Mountain Trails, Australia's first network of long distance walking trails in high altitude rainforest. More than 130 km of tracks have been constructed under a unique partnership between the region's shires, Queensland Parks and Wildlife Service (QPWS), the land's Traditional Owners, and volunteers from Conservation Volunteers Australia.
Millaa Millaa Lookout
One of the most superb vistas in the region unfolds from the Millaa Millaa Lookout on East Evelyn Road, Millaa Millaa.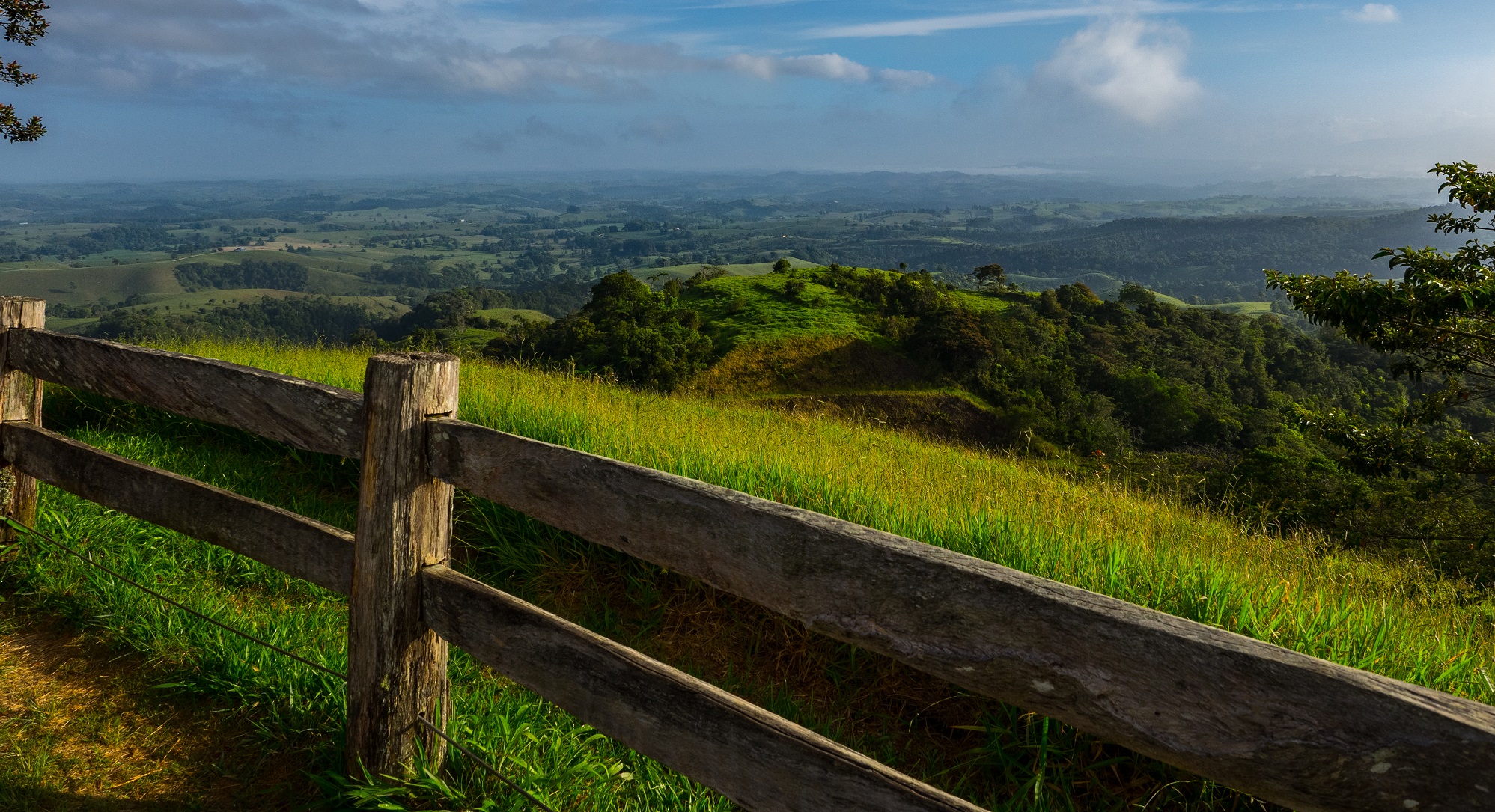 More information: History of Millaa Millaa